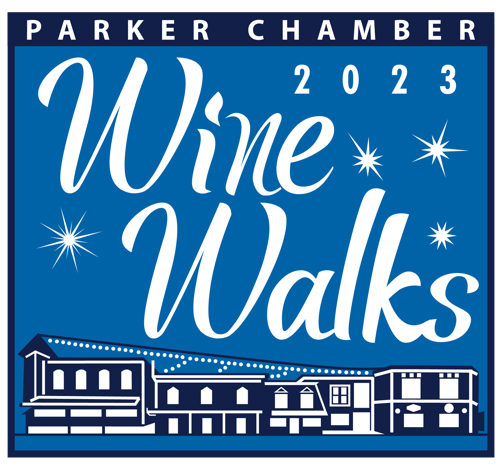 Statement regarding the cancellation of
Downtown Parker Wine Walks. 
Date of Release: August 28, 2023
The Parker Chamber of Commerce is sad to report to its members and the community that Downtown Wine Walks have been permanently discontinued, by order of the State Liquor Enforcement Division.
The Chamber was informed of the State's action in a meeting with the Town of Parker attorney last week.
For more than a decade, the Chamber's summer Wine Walks have been an economic driver for Downtown Parker small businesses.  As participants visited their stores and offices, business owners used the five annual events to build relationships with new customers and draw attention to their products and services.
Following the June 2023 event, a local business, not participating in the Wine Walk, filed a complaint directly with the State Liquor Enforcement Division. The business – not a member of the Chamber – has a liquor license and reported a participant illegally walking into their place of business with a glass of wine. This complaint triggered a State investigation.
Following this incident, the Chamber cancelled its July and August events in hopes of tightening rules at future events. Meanwhile, the Town of Parker and SLED went back and forth about the legality of the Town's special event permit under which the Wine Walks have operated for more than a decade.
In 2023, the legislature changed its licensing laws affecting alcohol in retail locations. According to the Chamber's attorney, these State changes were not foreseeable, on anyone's radar, or discussed with local jurisdictions issuing permits like the one issued for the Wine Walks. In the end, the State decided that charging admissions to an event where participants access alcohol at various retail locations in a public district violates new State policies.
The Chamber is refunding September ticketholders and overall event sponsors.
"Our staff and board will make plans for something new for 2024 that will add fun to the community calendar, raise needed funds, and bring valuable attention to Downtown Parker merchants," said T.J. Sullivan, President & CEO of the Parker Chamber.
"We are very sad to see this wonderful event end," Sullivan said. "We know how much people enjoyed Wine Walks, and it was an important marketing opportunity for many of our Downtown businesses. If the State at some later time deems these events to be compliant with regulations, we would love to bring them back."
Rep. Anthony Hartsook, who represents Parker, is taking up the matter with the State division and hopes to support the Chamber in being able to reinstate the events for 2024.
Comments on the situation are best directed to Michelle Stone-Principato, Director of the State Liquor Enforcement Division, 1697 Cole Blvd, Suite 200, Lakewood, 80401, (303) 866-2443, DOR_ADMINACTIONS@state.co.us.